Are you bored of draping your lehenga saree the same way for the 49th time? As a fusion of the classic lehenga choli and the exquisite saree, lehenga sarees have gained immense popularity among fashion enthusiasts. This adaptable costume provides the ideal balance of ease and grace, making it an ideal choice for weddings, parties, and special occasions. One of the most appealing qualities of a lehenga saree is its versatility in draping styles. And here today in this blog you will learn 7 stylish ways of draping your lehenga saree.
The Bracelet Drape
The "Bracelet Drape" is a unique and innovative way to drape a saree or lehenga saree by inserting a bracelet or bangle into the draping manner. This one-of-a-kind approach adds a touch of refinement and innovation to your classic look. Choose bracelet metals that complement your lehenga saree's decorations or embroidery or you can opt for gold-tone bracelets if your saree includes gold accents, and silver-tone or silver or metallic embellishments.
The Classic Front Drape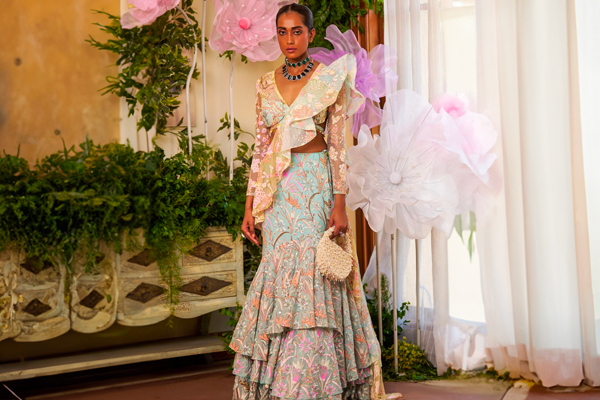 Bringing the pallu around your back and draping it over your right shoulder showcases the detailed craftsmanship on the pallu while maintaining a beautiful and traditional appearance. You can try this with your favourite go-to lehenga saree.
Double Dupatta Dazzle
Choose the double dupatta drape for an opulent and majestic effect. Begin by draping and pinning the first dupatta over your shoulders. Then, take the second dupatta, properly pleat it, and drape it across your waist, allowing it to fall like the pallu of a saree. This dual-dupatta style adds depth and texture to your outfit, making you appear exquisite and royal.
Mermaid Style Drape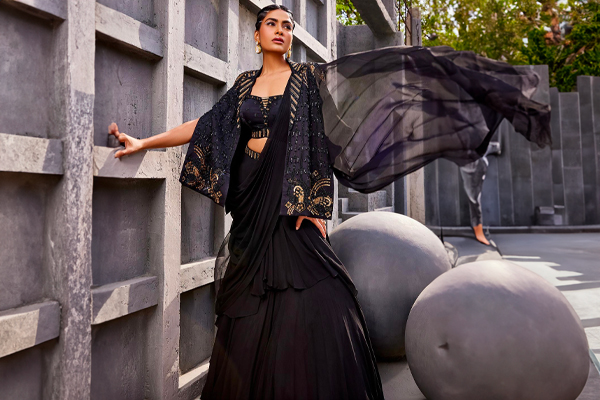 Mermaid-style draping is one of the easiest ways to drape your lehenga saree. This draping style makes you look slim and accentuates your curves adding a modern twist to it.
Butterfly Bow Drape
The butterfly bow draping is popular in Bollywood celebrities. You can try the butterfly bow drape for a fun and young look. All you must do is pleat the saree and tuck it in, then pleat the pallu many times. Attach the pleats to one shoulder with a beautiful brooch or pin. The remaining fabric is fashioned into a bow that resembles butterfly wings on the other shoulder. This drape is ideal for people who wish to add a quirky touch to their clothing.
One Shoulder Drape
With the one-shoulder drape, you may get a sleek and sophisticated look. After pleating and tucking the saree, drape the pallu over one shoulder, allowing it to fall down your back. This style draws attention to your collarbone and shoulders while remaining elegant.
The Hanging U Drape
This look is for the ultimate diva. It's a great method to show off your naked back while also drawing attention to your elaborately embroidered dupatta. Secure one end of the dupatta on the left shoulder, leaving the longer part behind. Pin the front part of the dupatta to the right side of the waist.
The lehenga saree is a fusion masterpiece with limitless draping options, allowing you to experiment with various looks and styles. From the traditional classic pallu to the trendy mermaid design, each drape highlights a different aspect of your personality while complementing the beauty of the lehenga saree. So, go ahead and experiment with these unique draping techniques to make a dazzling fashion statement at your next special event.