Firstly, fashion designing is a great career option for those who love to create something new. Creativity is something that is present in a person's mind. To be a fashion designer a person first needs to do a diploma or a bachelor's degree in fashion design from a fashion design institute. This is the basic start of a career as a fashion designer in the concerned field.  Choosing an appropriate institute, for the fashion designing course is very important. People pursuing fashion design should remember that in this career opportunity, practical experiences matter more than theoretical knowledge. So, the aim should be to take admission to a college that gives more exposure to the outer world.
Nowadays the demand for fashionable clothes is high and for this reason, new faces in the fashion world as fashion designers with new ideas are also needed. More and more people are opting for fashion designing as a career. A fashion designer should have a creative mind and also be business-oriented.  Fashion designers should come with their own design process. It is the work of a fashion designer besides designing and making garments, to do proper research work on ongoing fashion and trends on the market. But the aim should be to make something new which will be on-trend direct from your store. Fashion design institutes always keep their students updated with current trends, while learning students get the basic idea of how to work on research and make the proper decision of design.
After completing a bachelor's degree in fashion designing, internships as an intern or an assistant designer will be helpful. Experience matters more in the fashion world, internships will help to build a solid resume and portfolio. Internships provide aspiring fashion designers will industry insights, skill development, network connection, etc. There is a well-known fashion designing institute in Kolkata INIFD Saltlake, which gives opportunities to their students to give an interview with renowned companies for work experience after completion of their bachelor's degree.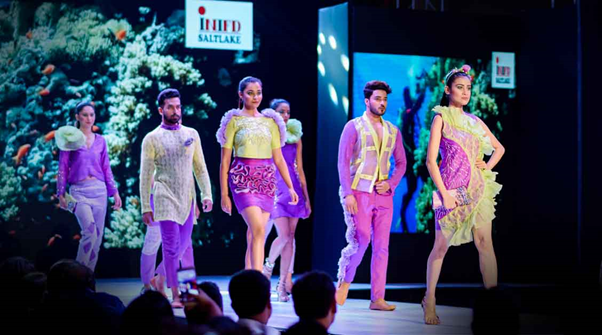 If you join an established brand or a company, you will make designs under the brand's name. A person can also do freelancing, which is possible in this field and will increase their experience to do work with various fashion companies. In both freelancing or working full-time with a company one has to have great communication skills. So, convincing your point of view on a particular style to the company or client before the production process begins will be not a big deal.
As the field is full of competition it is very vital for an aspirant fashion designer to be passionate about their project and work. If you work diligently it is not that difficult to build a strong career in the world of fashion. Sometimes collaboration with another fashion designer can boost the career of a fashion designer. Salary in this field can also be good if you work sincerely. Fashion designing is a good career option for the one who loves art and has the motive to create something new.